Strong, versatile and very adaptable
Rolling shutter doors are without doubt the most popular type of door
Security and thermal and sound in...
Avon's insulated rolling shutter is a robust and durable product
Energy efficient, robust, ease of o...
Ideally suited to meet all of today's needs for an industrial door
INDUSTRIAL DOORS, ROLLER SHUTTERS AND SECURITY ENTRANCES IN BRISTOL & SOUTH WEST
At Avon Industrial Doors Ltd we are independent commercial and industrial door manufacturer based in Bristol, South West. We cover areas within 80-mile radius from Worcester to Newbury and West Sussex. We have been in the industry since 1987 and have a great reputation within the local area. This is thanks to our quality industrial doors products and excellent response to customers queries. At Avon Industrial Doors Ltd we provide quotes fast to all customers in the South West. 
We offer a fantastic selection of security products ranging from roller shutters to insulated overhead doors and steel security doorsets. Our experienced team of technicians and engineers will help you with every step of the industrial door's installation service. Whether you need assistance with the best suited type of industrial door or working out drawings or planning regulations contracts, our team will help you. 
We offer installation services equipped with necessary tools and plants to carry out the full fitting process. Complete after sales service is guaranteed with all our products. 
Get in touch with our friendly team on 01454 273110 about our service in Bristol and across South West and surrounding areas.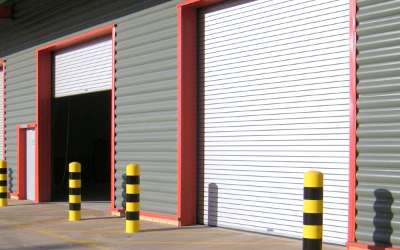 INDUSTRIAL DOORS & SHUTTERS
Strong, versatile and very adaptable products.
Different fixing arrangements allow rolling shutters to be installed in many ways. The total weight of the door is carried by the side piers, with no special steel or lintel required. Installation is quick and easy. This service comes with a full after sales contract maintenance service. 
Custom made to suit a specific door opening.
At Avon, we manufacture all garage doors in our Bristol factory. We custom make every piece to suit a specific opening and we do not use stock sized supplies. We offer a free no obligation survey service, which ensures that any door will fit the garage correctly.
STEEL DOORS & OTHER PRODUCTS
Purpose made industrial doors to suit your requirements.
At Avon, we can design and install a Steel Hinged Doorsets to cater for almost all applications. From fire exits to personnel entrances, plant rooms, fireproof zones and much more. We can engineer the door to fit the required opening sizes.
Welcome
Welcome to Avon Industrial Doors Ltd
We are an independent Bristol based door manufacturer established in 1987. We are run by a team of people with many years of experience in the industrial and commercial garage shutters trade.
We provide difficult to beat value from the original design stage through to contract maintenance and the after-sales service.
Why Us?
Location
INDEPENDENT BRISTOL BASED
DOOR MANUFACTURER
For industrial & commercial doors